Massage Therapy
In addition to providing state-of-the-art chiropractic services, Wilderness Family Chiropractic also offers therapeutic massage. Massage therapy is invaluable in helping to reduce and release tension in large muscle groups that have chronically tightened in response to spinal misalignment patterns. It's been our experience that chiropractic adjustments combined with massage therapy yield faster and better results!
Benefits of Massage Therapy
When massage therapy is partnered with chiropractic care, its healing effects become magnified. Here are some of the benefits that patients notice: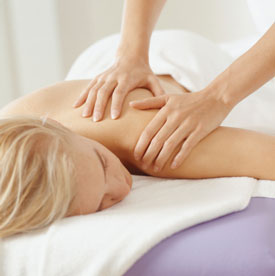 Decreased stress with heightened feelings of relaxation
Enhanced circulation
Improved posture
Minimized muscle spasm and cramping
Reduced blood pressure
Diminished pain and swelling
Strengthened immune system
Our Techniques
The majority of our patients receive massage therapy as part of their treatment plan. However, you don't have to be a chiropractic patient to receive this service at our office. Our techniques include deep tissue massage, medical massage and Swedish relaxation.
60-minute massage…………………………………………………………………………$85.00
We'd love to meet you and answer any questions that you may have as you begin your healing journey. Contact us today and book a free consultation; we accept most insurance and offer same-day appointments!