About Us
Our Practice Is Family-centered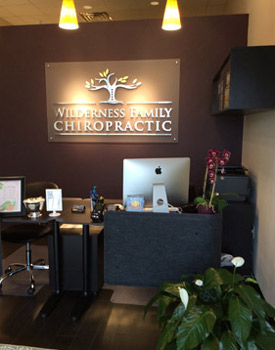 Since 1998, Wilderness Family Chiropractic has been assisting families in their quest to eliminate pain and optimize wellness. We currently provide state-of-the-art chiropractic services in two locations: an office in Fredericksburg, and a satellite clinic in Harrison Crossing. Our locations are ideal for those living in Spotsylvania and Culpeper . We place particular emphasis on the core values of traditional chiropractic care and cater to the needs of people from all walks of life.
Our Mission and Hope
Our consistent mission is to help as many people as possible live a healthier, happier life. We accomplish this goal through the natural health care benefits of chiropractic and massage.
Our eventual hope is that every patient we encounter will reap the rewards of genuine wellness, with little to no pain and full function. We're passionate about helping our patients become proactive in their desire to stay healthy, rather than remain reactive to unwanted symptoms through drugs and surgical intervention.
Chiropractic Gets Results
In almost two decades of practice, we've had countless success stories. Here are a couple of favorites:
When we first met "Bill," he was a senior citizen that had been unable to drive for the last 12 months. He was suffering from severe vertigo, and the intermittent spinning sensations he experienced made it impossible for him to drive a car. Within weeks of treatment, Bill's vertigo disappeared, and he was back to his old self. As he proclaimed, "My adjustments were life-changing!"
We've also had at least two couples over the years who were unable to conceive. Following precise and consistent treatment at our chiropractic care center, both couples were blessed with subsequent pregnancies.
The true definition of doctor is "to teach." As Dr. Stewart often says, "My purpose is to serve my patients, lead them, and love them." We'd like to invite you to experience the many benefits of a wellness lifestyle, or at the very least, eliminate your pain. Contact us today for a free consultation; we're here to help!
---
About Us | (540) 785-5757